Geological and geophysical data are interpreted using special methods which guarantee the multilateral analysis of seismic data and other geological and geophysical materials.
The innovative equipment and constantly improving high speed IT technologies, as well as the professionalism of our specialists enabled us to reduce the work time and significantly increase the quality of the data processing results. Thanks to the top-level qualifications of the employees and use of modern technology, the company applies the most innovative interpretation methods of geophysical data processing, comprising several stages:
Structural Interpretation
Comparative analysis of data received for different periods;
Stratigraphic referencing of reflecting horizons;
Wavefield analysis;
Correlation of reflecting horizons;
Fault interpretation;
3D velocity modeling.
Stratigraphic Interpretation
Seismic sequence stratigraphy analysis;
Detailed wave correlation within seismic sequence;
Analysis of well-logging data;
Seismo- and lytho-classes analyses;
Sedimentary environment;
Forecasted reservoir development zones.
Dynamic Interpretation
Calculation of seismic properties for target intervals;
Combined analysis of seismic and well data using statistical methods to define the dependence of seismic properties on petrophysical and field-geologic factors.
Inversion and AVO-analysis
Acoustic inversion;
Simultaneous AVA\AVO inversion;
Stochastic inversion;
AVO-analysis;
Forecast of reservoir properties;
Seismic and geological modeling.
Experts prepare a full range of data interpretation, which consists of the following stages:
Primary interpretation:
Initial data input and reduction to the common coordinate system;
Construction of the scheme of seismic profiles and wells;
Reflection tracking;
Geographic information system data correlation;
Drilling and seismic measurement data linking;
Time-to-depth conversion;
Seismic attributes calculation;
Seismic inversion;
Correlation patterns construction.
Structure maps tracing:
Based on the seismic works and / or drilling data in the form of contours and / or color-coded
Maps flattening and editing;
Automatic allocation and mapping of areas with different characteristics (such as different validity of design)
Cross-sectional map tracing;
Conversion of seismic time maps into depth maps;
Axonometric surface mapping;
Contour sketching and importing
Forecast geological model building (deposit, reservoir and other objects) based on the seismic measurements and drilling:
Averaging within the boundaries of the formation of step and point-by-point logs and the results of reservoir determination (FES) and other geological parameters;
Evaluation of the geostatistical links between seismic attributes and geological and petrophysical parameters; mapping the geological and petrophysical parameters on these data from the wells with interpolation in the interwell space;
Reserve density mapping and assessment of its size;
Geologic and geoseismic cross-sectional building.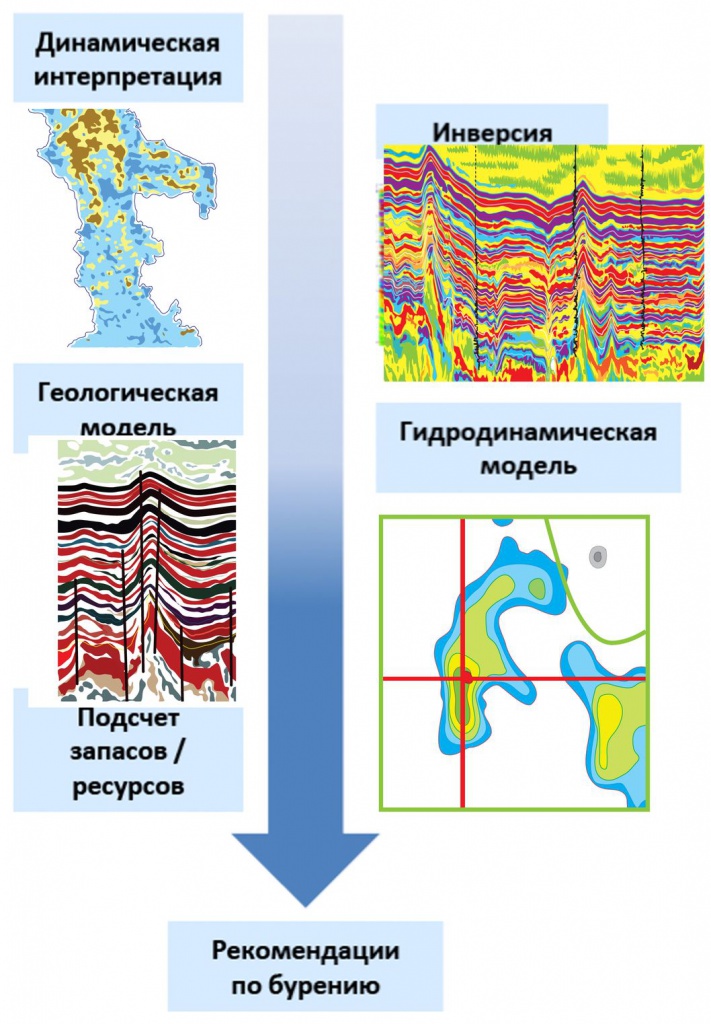 Seismic modeling:
Building 1D acoustic models based on logging data;
In-the-model velocity adjustment using time-depth curves;
Determining pulse shape and phase spectrum; synthetic trace and synthetic seismogram calculation;
Final processing of synthetic traces;
Stratigraphic positioning of reflections, the estimation of an acoustic model's border contribution to the wave field.
Output of interpretation results (maps, sections, correlation charts, etc.) to a plotter/printer with the required scale, layout, and legend.
State-of-the-art software, cutting-edge high-performance computer hardware, and a highly professional team ensure faster project completion and boost data processing quality.
Seismic survey results serve as the basis for target horizon outlining, axonometric imaging of surfaces and stand-alone layers, 3D field models, productive reservoir porosity and permeability estimations, and data for hydrocarbon reserve estimation and development approaches.
Experts at our centers have developed and implemented unique software solutions that are unparalleled on a global scale, e. g. adjustment for near surface section heterogeneities.